Mill Rolls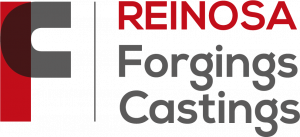 Forged Rolls for rolling mills
Reinosa Forgings and Castings is specialized in forged rolls for flat and long products. In partnership with the rolling mills, we have contributed from the very beginning to the development a range of steel grades for different rolling applications (hot strip mills, cold strip mills, plate mills, aluminum mills, etc.) This knowledge together with our long track of records makes possible to comply with the highest customers' requirements in terms of performance and reliability.
Thanks to our integral manufacturing process centralized at our Reinosa Plant, we fully control and supervise all the manufacturing stages: Melting in electric arc furnace, ladle metallurgy, vacuum degassing, forging in open die hydraulic presses, heat-treatment with differential hardness and final machining. An ad-hoc manufacturing process together with a thorough Quality Control including 100% LISMAR NDT inspection, results in the supply of cost-effective rolls with outstanding internal soundness and a guaranteed hardness curve.
Key capabilities
Integral manufacturing process centralised in a single plant,
Ad-hoc manufacturing process depending on the rolling application and customer specification,
Super-clean steel in a range of grades with different alloy contents,
Dedicated roll manufacturing facilities (vertical furnaces, induction hardening, cryogenic, etc.)
Rings and inner races assembly and grinding,
100% Lismar NDT internal inspection,
Customer technical service supporting the best possible rolling performance.
Forged work rolls/intermediate rolls (WR)
Work rolls benefit from our dedicated production line, specially built to ensure a high productivity with a high quality. It is equipped with the state-of-the-art technology:
Vertical electric furnaces,
Progressive low-frequency induction hardening,
Rotatory projection cryogenic heat treatment (subzero),
Full Non-Destructive Testing (NDT)
In order to match the hardness requirements, our roll grades are manufactured with an ad-hoc alloy content (from 3 to 5% Chromium), preliminary heat-treated and induction hardened. It leads to work layers up to 120mm diameter depth ensuring a high performance (i.e. tons/mm) throughout all the service life of the roll.
Forged Back-Up Rolls (BUR)
Back-up rolls benefit from our vast experience manufacturing large forged pieces. Forging process results in mechanical properties clearly higher than in casted back up rolls. The homogenous structure leads to a perfect balance of high hardness and toughness enhancing wear resistance and preventing contact fatigue.
Even under the most severe rolling conditions of traditional and modern mills, our rolls provide a high quality rolling with very low risk of spalling accidents. Latest developments result in even more cost-effective rolls, with a lower consumption of millimeter per ton and longer rolling campaigns.
Forged Rolls for Long Product Mills:
Rolls for Long Products can be supplied in black conditions with a flat barrel or fully machined as per drawing. Moreover, the barrel can be forged following the shape of the pass grooves.
Our roll grades are suitable to work under the most severe temperature and pressure conditions. They are characterized by its high toughness, providing a good balance between wear resistance and thermal fatigue resistance.