Mill Rolls

CONTACT US FOR DETAILS ON PURCHASES!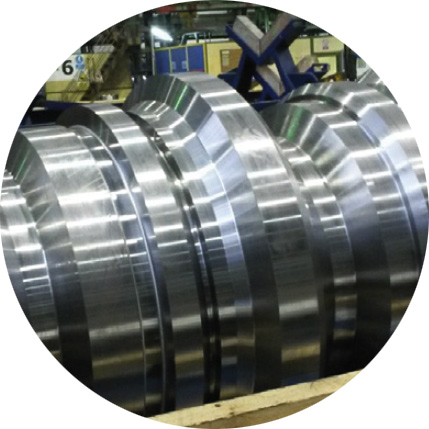 Forged
Melted in an electric arc furnace, ladle refined under vacuum, they are forged in hydraulic presses which makes them extremely homogeneous and tough, withstanding severe shape rolling conditions and highly demanding shape forms, including the heaviest ones which call for high mechanical resistance. They are applied in roughing mills and in rolling mill intermediate stands.
Forged Steel Work Rolls For Cold Strip Mills
They are refined by the most modern melt shop processes, forged in hydraulic presses, resulting in excellent chemical purity, metallurgical structure and high toughness, for application in rolling mills under most stringent conditions. The induction hardening in a progressive double induction process and the use of modern equipment guarantee that this product meets the need for wear resistance, surface quality and maintaining roughness in the mills. Rolls are supplied with a hardness depth according to each application. Products with a deep hardness penetration are also available and have attained excellent performances. These roles are developed to allow the most varied texture and finish degrees.
Forged Back Up Rolls
They are manufactured out of steel-degassed by means of a vacuum process – with a high level of purity , and forged in hydraulic presses to achieve a high degree of reduction. They are used in continuous hot strip mills and in Steckel mills, in addition to all cold rolling mills, having the ability to endure the most severe mill conditions. Products that have been developed and put into applications have ensured a performance largely superior to cast backup rolls and to previous versions of forged rolls. The structural homogeneity of these products enables to apply high hardness and toughness conditions.